Our demo kits are designed so that you can hear the difference Soundskrit microphones can make in your products. Our demo kits implement a variety of our recommended microphone configurations to pair with our software and allow you to evaluate the performance for yourself. If you are looking for something more specific to your product, we work alongside many of our customers to build proof-of-concept devices, tell us more about your project and we can work alongside you to develop an industry-leading audio solution.
Horizon Development Platform
The Soundskrit Development Platform is an easy-to-use board that highlights our five standard microphone configurations. The Horizon can mount to the top of your laptop and connects via USB. Our graphical user interface guides you through each configuration and various software features we have implemented.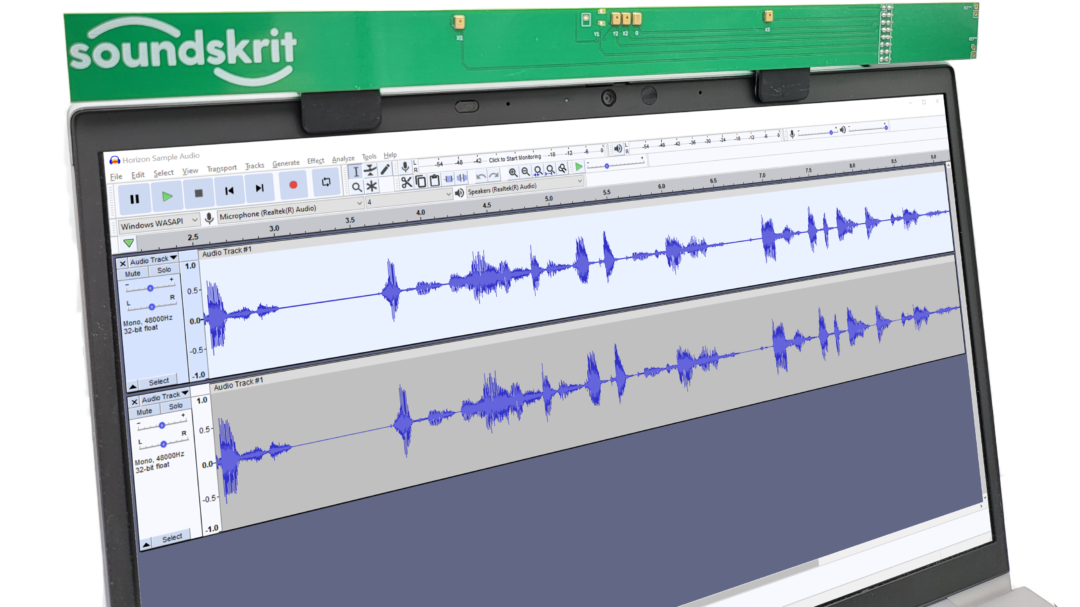 Allows users to switch between various configurations of Soundskrit microphones
See the power of combining Soundskrit microphones with traditional omnidirectional microphones
Switch between several experiences enabled by Soundskrit's software
Easily mounts on top of any laptop
USB-C interface
Omnidirectional reference microphone
Comes with user-friendly GUI for control
Can be used directly for voice calls
Privacy Mode
Focus on the user's voice for clear and full vocal pickup in noisy and reverberant environments.
Collaboration Mode
Isolate multiple users in 360° so that everyone comes across clearly.
True Stereo Recording
For the first time ever, you can record stereo using the same techniques found in pro-audio in a thin laptop formfactor.
Selectable Beampattern
Choose between multiple polar patterns; dipole, hyper-cardioid, super-cardioid, cardioid, and omnidirectional.
The SPIDAR Development Kit is a powerful tool that enables rapid prototyping and development of electronics using Soundskrit MEMS microphones. It features the SPIDAR board, a USB audio interface with connections for six MEMS microphones, a stereo audio output, and a dedicated output for direct connection to Audio Precision or other audio analyzers.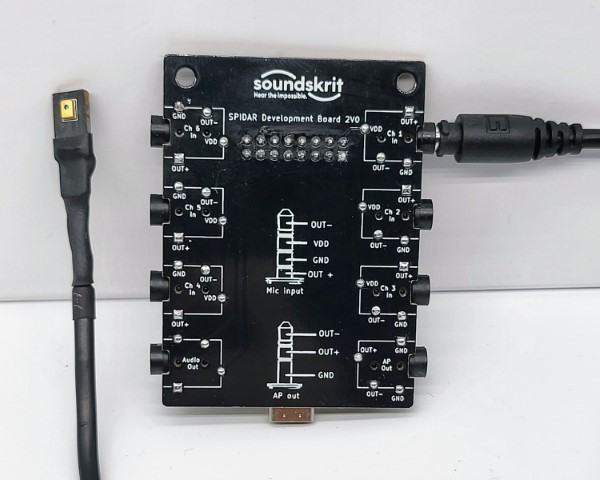 Rapidly develop prototypes and software algorithms using directional microphones
Includes both directional and omnidirectional microphones on 3' cables
Dedicated output to easily connect analog MEMS microphones to audio analyzers
USB-C interface
Record up to 6 microphones simoultaneously
The Soundskrit Evaluation Kit enables you to test and evaluate our directional microphones. The kit comes with three directional microphones and one omnidirectional microphone for reference. Access the analog signals through convenient pinouts or connect the evaluation kit to your computer with USB. Our software lets you configure microphones for different scenarios. This kit is primarily designed for near-field evaluation purposes and to quickly demonstrate the difference between directional and omnidirectional microphones.
Includes three Soundskrit microphones and one omnidirectional reference microphone
Preset microphone tuning that can be changed upon request
Three locations to place microphones
Orient directional microphones in different directions
Steerable beamformer with LED ring to visualize direction
Easy to use GUI for control
USB-C Interface
Analog pinout for direct microphone testing
Steerable Beamformer
Use our XY microphone configuration to steer a dipole in any direction, 360° around the device. An LED ring indicates where your beamformer is pointing.
Enhanced Beamformer
Try our more advanced beamforming software with our XY microphone pair. It comes in three levels, from light to extreme processing.
Analog Outputs
Test out the performance (SNR, directionality, etc.) of our individual microphones using either our analog pinout or through the USB interface.
Omnidirectional Reference
Record a reference signal using an omnidirectional microphone to evaluate exactly how well our microphones perform.