How Are Electret Microphones and MEMS Microphones Different?
By Charley Beeman
2023-06-12
Microphones are sensors that capture sound waves as an electrical signal. For consumer electronics, there are two main types of microphones: the electret microphone and the MEMS microphone. Most microphones used in consumer electronics are condenser microphones. A condenser microphone consists of two parallel charged plates separated by an air gap to form a capacitor. One plate, known as the backplate, is fixed in position. The other, known as the diaphragm, is flexible and moves with changes in pressure. When sound waves change the air pressure, the diaphragm will vibrate with the sound and the distance between the two plates will fluctuate, changing the capacitance.
Traditional condenser microphones, found in professional audio recording, use a diaphragm made from a lightweight plastic that is coated with a conductive material, typically gold. The backplate is a stiff conducting material, often brass, of the same dimensions as the diaphragm. When a DC bias voltage is applied across the capacitor, the changes in the capacitance will vary the voltage. This voltage variation is interpreted as an audio signal. These traditional condenser microphones are very large, inefficient, and expensive, so they are not well suited for use in consumer electronics such as laptops or headsets. Instead, there are two types of condenser microphones found in consumer electronics, electret condenser microphones (ECM) and MEMS microphones, which implement the same principles in a smaller and more efficient package. The main difference between an ECM and a MEMS microphone lies in their design and construction. In this article, we will walk through how these technologies compare.
Electret Condenser Microphone: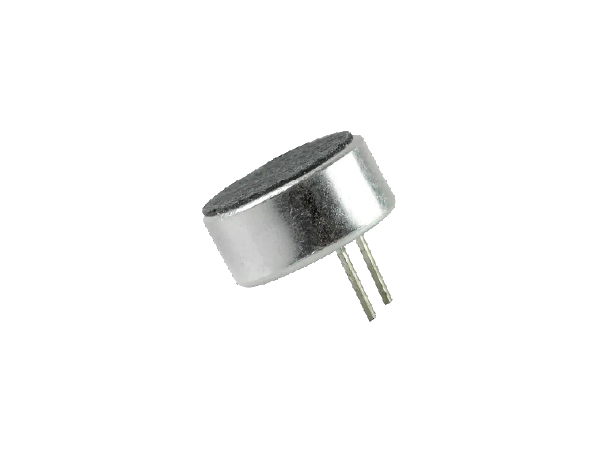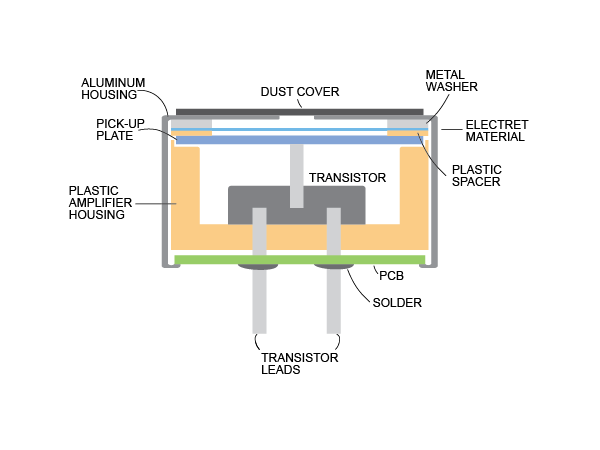 The defining characteristic of an ECM is that either the diaphragm or the backplate is paired with an electret material. An electret is a material with a fixed, permanent charge, much like a magnet. This electret provides the charge required for the capacitor rather than using a bias voltage. The most common form of electret microphone is a foil electret. Foil electrets use a diaphragm made from a thin charged film, often made from PTFE, with a metallic layer deposited on one side. There are also back-electrets and front-electrets available which pair the electret with the backplate so that a better suited material can be used for the diaphragm to increase performance.
With electret microphones, there is no bias voltage required. The movement in the capacitor generates a very small AC voltage which then must be buffered and amplified by a transistor before being read by the rest of the system. An ECM only consumes as much power as is required by the JFET and can be made much smaller than a typical condenser microphone. However, ECM microphones are very sensitive to changes in temperature and inconsistencies in the manufacturing of the electret material mean part-to-part variation is very high.
MEMS Microphone: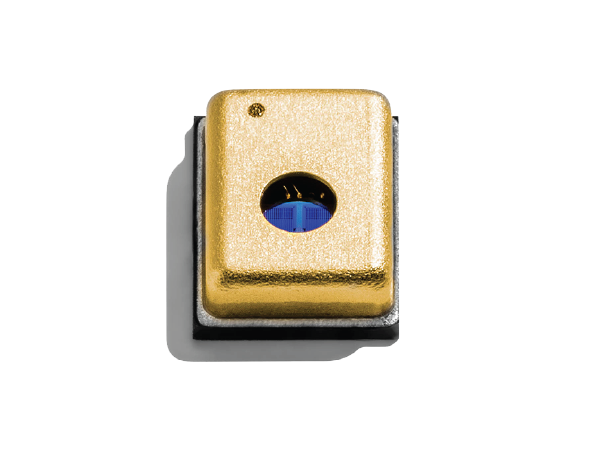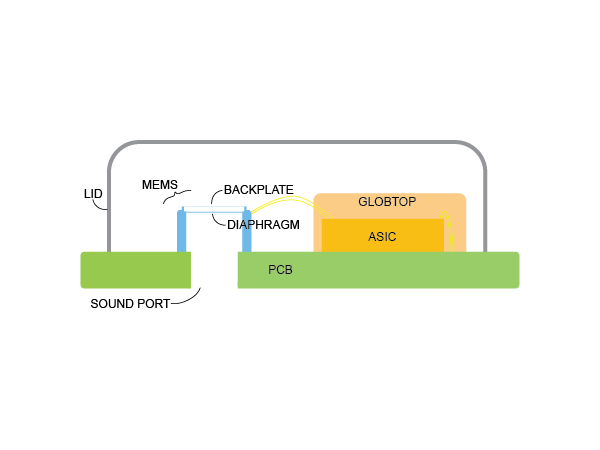 A MEMS microphone leverages recent advancements in microfabrication techniques to create a condenser microphone that is smaller and more reliable than ECM microphones. MEMS stands for Micro Electro Mechanical System. A MEMS is an electro-mechanical device manufactured using semiconductor processing techniques. Operationally, a MEMS microphone closely resembles traditional condenser microphones. In both cases, a bias voltage is applied to two plates that are arranged in parallel. There are two main components in a MEMS microphone, the MEMS transducer and the application specific integrated circuit (ASIC). The transducer is made using MEMS techniques to construct both the diaphragm and backplate on a small silicon chip. In an analog MEMS microphone, the ASIC provides a constant bias voltage to the transducer and amplifies the output signal. Digital MEMS microphones are also common where the ASIC contains an analog-to-digital converter (ADC) that converts the analog signal to a PDM or I2S output.
Due to the precision of the manufacturing process, MEMS microphones have very consistent sensitivity from part-to-part making them ideal for microphone arrays. Unlike ECM microphones, a MEMS microphone can be reflow soldered for ease of manufacturing. As the MEMS transducer is so small, very little power is required to bias the transducer, further reducing the power consumption from ECMs. MEMS traditionally did not acheive as high sensitivity as electret microphones because the diaphragm covers only a small portion of the microphone area. However, as MEMS technology progresses, microphones with very high sensitivity are becoming common. MEMS microphones have found widespread use in portable devices such as smartphones, tablets, laptops, wearables, and hearing aids thanks to their small form factor, low power consumption, and part-to-part consistency.
Both types of microphones serve the purpose of capturing sound, but their distinctions in design, size, and application make them suitable for different scenarios and user preferences in terms of sensitivity, size, and power consumption.
Want to learn more about microphones? Check out this article explaning microphone polar patterns!
Interested in Soundskrit's microphones? This is our Products page!