How to replace electret microphones with MEMS using the 2-wire configuration
Analog MEMS microphones typically require three to four connections. They have either a single ended or differential output, ground, and a dedicated supply voltage. Traditional electret microphones use a DC bias voltage on the AC microphone signal as the voltage supply. This means that electret microphones cannot be directly replaced by a MEMS microphone. However, we can very easily implement a circuit that allows a MEMS microphone to be operated using the bias voltage configuration intended for electret microphones. All that is required is an additional resistor and two capacitors.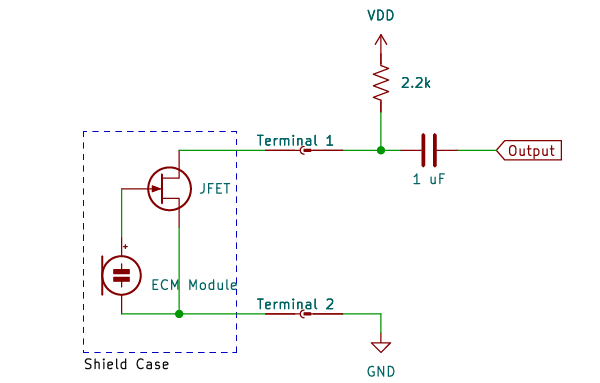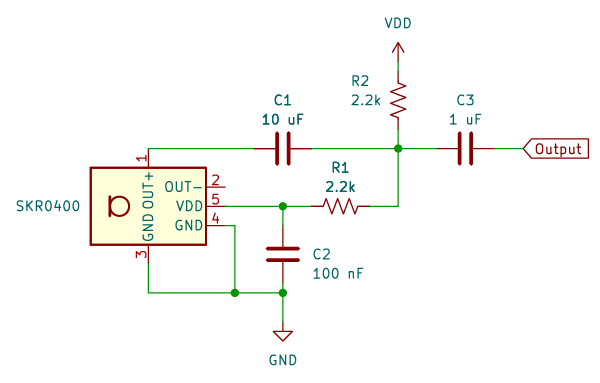 While electret microphones use a very simple, old-school, single transistor output stage, the SKR0400 and other MEMS microphones incorporate a higher performance integrated circuit (ASIC). The modern ASIC design provides advantages such as lower power consumption, lower output impedance, higher dynamic range, and configurable gain for precise matching of between all microphones.
The external components, two capacitors and a resistor are very low cost. Depending on the supply voltage of the interface, the resistor value can be tweaked to optimize performance. The resistor value is chosen to be small enough to not decrease the supply voltage significantly, yet large enough to provide an adequate load to the output signal. For example, with R1 and R2 = 2.2 kΩ, the supply voltage will decrease by V = RI = (2.2 kΩ + 2.2 kΩ) × 100 µA = 0.44 V. With the mic's output impedance being below 100 Ω, it can easily drive the 2.2 kΩ load impedance without sacrificing performance. The capacitor C1 creates a high-pass filter, which can easily handle the audio bandwidth. Meanwhile the capacitor C2 keeps the supply voltage on VDD stable. These values give an excellent starting point and can be tweaked for specific requirements.
The two-wire configuration of the SKR0400 gives several performance advantages over traditional electret mics, while saving the time and costs needed for product redesign.